CAMINO DE SANTIAGO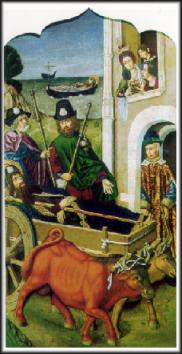 Along the Camino, as well as back in their home countries, pilgrims of the medieval era told and retold up and down the Camino numerous fantastic stories of miraculous cures, of pilgrims' trials and tribulations on the way to Compostela, of superhuman saints, of the Holy Grail, of Saint James' (Santiago's) interventions, etc. These stories and legends have been passed down through the Camino's long history creating a rich body of folklore. On our On Glory Roads walking tours you'll have the chance to visit some of the places where these events allegedly occurred and hear many, many more rich versions. Here are a few examples:

How the Apostle James Got to the Far Northwest Corner of the Iberian Peninsula
James was one of the original 12 apostles and was martyred (beheaded) in 44 AD in Jerusalem. The next news that we have of James comes from a 9th century religious hermit, Pelayo. Apparently, upon searching for the source of a strange, starry light, over what is present day Compostela, he discovered the apostle's long forgotten tomb in the dense forest. But how did James get there after being beheaded in Jerusalem? The answer leads to one of the most remarkable translation stories of the medieval ages and is best understood in the context of medieval religious belief. After James was beheaded two of his disciples gathered up his remains and placed them in a stone boat. They set sail for Hispania, where James was said to have proselytized during his lifetime, and arrived on Galicia's Costa da Morte before sailing upstream to present day Padrón (then a Roman colony). His body was then moved inland some 20 km, buried on Mt. Libredon and then neatly forgotten before Pelayo's fateful discovery eight centuries later. Once the presence of his remains were confirmed faith drove millions of pilgrims to undertake the long, arduous journey to Compostela.